Since I moved to Japan I have been unable to find any shops selling wholemeal bread so I have been making my own. It doesn't cost much and is pretty easy to do.
I use a National SD-BH101 which cost about 1.4万円 at Yodobashi Kamera Akihabera. I buy 25kg bags of Graham wholemeal flour from the TOMIZAWA online shop. I buy 4 packs 125g saf-Instant red dry yeast. Yeast has a limited shelf lift after being opened so I find it is worth buying smaller packs. TOMIZAWA offers free delivery to most places for orders over 1万円. If you plan on using the free delivery you need to be careful because there is a weight limit and various other conditions. All other ingredients I buy from local supermarkets.
My recipe is as follows.
250g Graham wholemeal flour
180ml water
20ml milk
3cc butter
12~15cc brown sugar1
pinch of salt
2.8g dry yeast2
Making the bread involves the following steps. Placing all ingredients accept the yeast in the bread-maker bowl. Put the bowl into the bread-maker, close the lid and adding the yeast to the yeast compartment (making shore that it is properly closed first ;). Press the 「コース」 button until it indicated 全粒粉. If you want it to make the bread immediately press the 「スタート」 button, otherwise press the 「予約」 button and the the 「時」 button to set the number of hours and the 「分」 button to set the number of minutes, followed by the 「スタート」 button.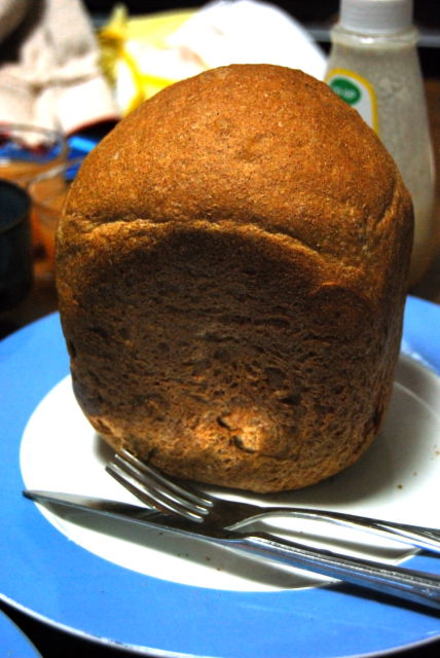 I have found this works very well during winter, producing wholemeal bread that is as light as most white bread but it doesn't seem to work during summer. Testing with various combinations suggests that heat is the problem but I have not found any satisfactory solution so fare.
– UPDATE I missed a few decimal points on the prices it should have been 1.4万円 not 14万円, and 1万円 not 10万円.